Bats Day in the Fun Park is NOT a themed dress up day. The Dark Subculture community has a certain style of dress. Most of the people that are in this community wear this style of dress everyday. To learn more about the Dark Subculture AKA Goth please check out the following links: Goth Subculture / Goth Fashion
Bats Day is a convention type event that happens once a year. Bats Day attracts people from all dark subculture genres and walks of life, from Deathrock to Goth, Industrial to Steampunk, Rockabilly to Psychobilly, Halloween, DisneyGoth and anywhere in between, all for the love of Disneyland, to have some spooky fun at the Disneyland Resort, CA, with meetings spots and photo ops.
THE ORIGINS
"It all started with a bat!"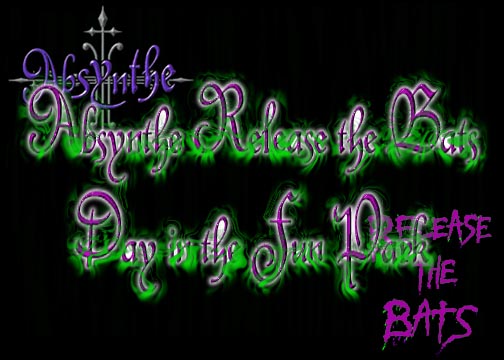 Bats Day in the Fun Park, started as a simple park meet in August of 1999 between the promoters of the goth/industrial & death rock clubs, Absynthe and Release the Bats.  This small meet up eventually grew into a full 3 day event solidifying the Disney goth community and the rest as they say, is history.  
Yes, it's true! The Bats Day in the Fun Park meet was originally in August. Why August? It was the first weekend of non blackout dates for all annual passholders during Disneyland's summer schedule and the last weekend where the park would be open till midnight allowing guests an extra 3 hours of spooky fun.   
2003 it was decided we would expand beyond the park and grow the weekend with additional events at an official Bats Day hotel. This would eventually include a private dinner, a haunted Mansion style costume ball, and a spooky shopping experience with over 70 exhibitors.

Then in 2008 Bats Day had its 10th anniversary event, the "Year of a Million Screams." We decided to change things up and do something special. We moved the event to the month of November. This way the attendees who have come to the event get to see the Haunted Mansion as Haunted Mansion Holiday.

In 2009, Bats Day was moved to its annual month of May. The month of August became too hot. We felt May was a much cooler month for the event.
Since 2018, Bats Day scaled back on the first 2 days of the weekend to go back to its roots of just the spooky trip to the Disneyland Resort, CA., The official hotel events are schedule to make a come back after some restructuring.
Click Here to see all the events that have been part of the Bats Day in the Fun Park Weekend.